Getting a degree from top engineering colleges was often seen as a key to high-paying jobs and a convenient life. Well, not anymore!! A large number of fresh graduates are now taking up entrepreneurship to address problems faced by the society at the ground level and are redefining the world.

IIIT-Delhi being a research-oriented institute, has always committed to developing innovative solutions to improve the quality of life and making a positive impact on society through technology-based interventions. We encourage our students to seek out challenges in the society and cater to them through the most innovative solutions. Many of our alumni have taken divergent paths in their career, but there is one thing common among all, a commitment towards making an impact.

Here is an intriguing story of one of our alumnus from the youngest graduated batch, Mukul Chhabra (Class of 2020) who is contributing significantly to the Indian startup ecosystem and bringing a positive difference in the society. Inspired by the tech innovation, Mukul took up the challenge of entrepreneurial journey and opted out of campus placements to follow his passion. During his last year in IIIT-Delhi, he started his own venture 'Swapeco', with a vision to divert recyclables from India's unsanitary landfills. In a very short span of time, Mukul has turned Swapeco into a growing venture.

Let's read about this young entrepreneur's journey from a student to the founder of a growing startup, in his own words.
Tell us about yourself
I am a freshly minted B.Tech- ECE graduate and Founder & CEO of the startup called "Swapeco". I was quite fascinated by the idea of startups from a young age. On joining IIIT-Delhi as a student, I was fortunate to get exposure to a number of consumer internet companies that visited campus for placements. It was during these times that I observed how a simple idea with not much of rocket science, having the capability to solve a genuine problem, can be shaped into a business. When I was in my final year at the college that is when I started Swapeco with a vision to bring about a systematic change in India's recyclable waste management problems.
What inspired you to start Swapeco?
I am always passionate about solving social problems through self-sustainable business models. In India, households & enterprises sell off their recyclables to traditional recyclable waste vendors (also called "Kabadiwalas"). These recyclable waste vendors play a crucial role in India's recycling industry. But, there are several problems that people face while dealing with these traditional waste buyers like time-mismatch, trust & safety issues, recyclables channeled to unauthorized recyclers, unregulated prices, etc. Due to these problems, a lot of people have stopped segregating & selling off their recyclables to these vendors. Only 20% of India's total recyclable waste is actually recovered (market potential~ $15Bn) whereas 80% recyclables end up in landfills leading to severe air pollution & groundwater contamination. I saw this sector as an opportunity because of its huge market size and unorganized nature at the same time. After months of research and discussions with my friends about this sector, Swapeco came into existence.
Tell us about your startup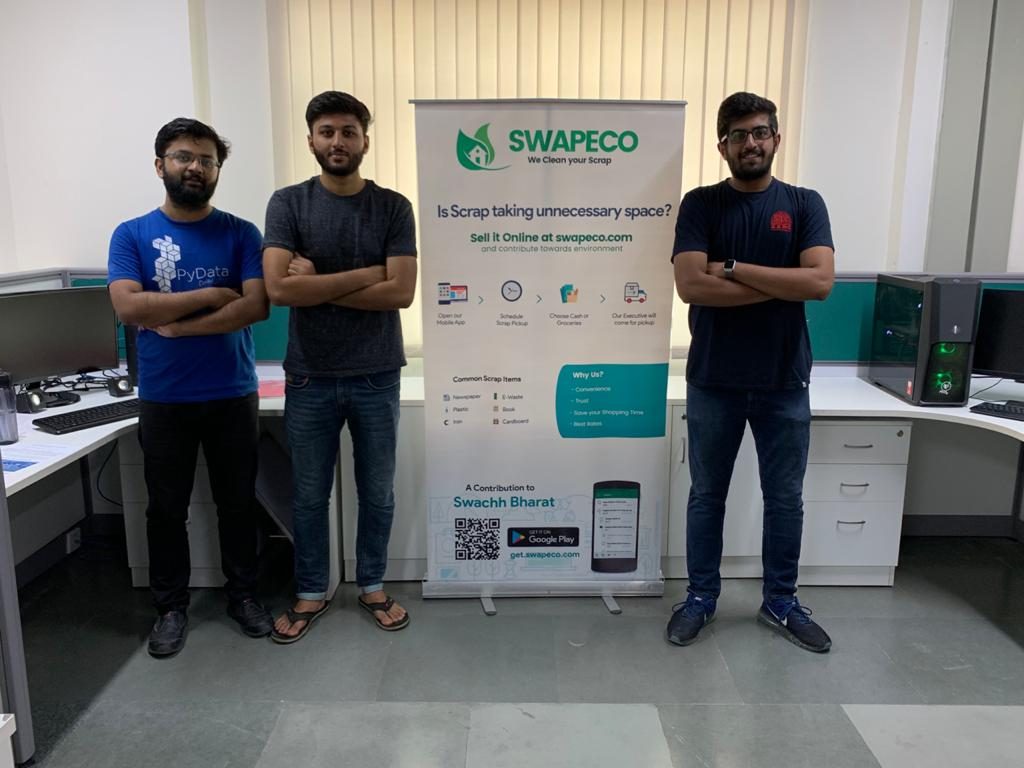 I started the company along with Ashutosh Kumar (IIITD Alumnus, Class of 2019) who is the Co-Founder & CTO of Swapeco with a vision to organize the recyclable waste management sector in India. Swapeco's digital recycling platform (App/Web) enables users to dispose of their recyclables in a responsible and rewarding manner. Our users are mainly households & enterprises that can simply schedule a doorstep pickup for their recyclable items like paper, plastics, metals, e-waste, etc. & get paid for them.
We are trying to blend the traditional recycling business with technologies like mobile applications, IoT-based smart weighing scales and analytics.
Where do you see SWAPECO in the next few years?
Swapeco has a team of 12 members currently, operating in Delhi NCR, and in the past 12 months, we have registered more than 20,000 users and diverted more than 3,00,000 Kgs of recyclables from landfills to the recycling units. We are doing around 40 pickups a day as of now, and wish to achieve a pickup frequency of 600 pickups per day by the end of 2 years. In the next 3 years, our target is to divert around 5000 metric tonnes of recyclables per month from landfills to recycling units. Now that we have successfully completed a pilot run in Delhi NCR, we plan to explore the Delhi market only for the next 2 years and are planning to come up with a franchise model to expand Swapeco in other cities as well.
What role has IIIT-Delhi played in your journey so far?
Being an ECE student I started my entrepreneurial journey during my second year with my Drone-Tech Startup called, "DroneMed". We received constant support like access to labs, expensive drone equipment and guidance from IIIT-Delhi. Under the guidance of our faculty advisor, Dr P.B Sujit we built a fully autonomous VTOL UAV which was capable of flying both like a quadrotor as well as a fixed-wing plane and switch between the 2 modes whenever required and could be used to deliver emergency supplies like medication, food, blood etc. DroneMed received various recognitions from organizations like Lockheed Martin, DST, Tata Trusts & Indian Air Force, however, it was eventually halted due to a lack of proper drone regulations in India at that time.
After a few months, I started working on Swapeco. IIIT-Delhi was always supportive whether it was a deep tech startup (DroneMed) or a "not so deep" tech-related startup (Swapeco). We had a few entrepreneurship-related courses that were offered in college and these courses helped me a lot to understand and learn the basics of entrepreneurship and how to start a proper company. During these entrepreneurship courses, we got introduced to the IIIT-Delhi Innovation and Incubation Center (IIITDIC) for the first time which is the hub of entrepreneurial activities in the college and provides incubation facilities to startups like us. We approached IIITDIC who loved our idea and thus we pre-incubated our startup with them. Ever since then, the center has been providing us with facilities like constant mentorship from experts, infrastructure and much-needed networking. I am really thankful to IIIT-Delhi for providing such an excellent entrepreneurial ecosystem in the college and giving the students ample opportunities to benefit from it.
Important accomplishments of your career
DroneMed was the first biggest achievement of my tech career and leading the UAV team from IIIT-Delhi that secured 6th rank in the 17th edition of the coveted Association for Unmanned Vehicle Systems International Student Unmanned Aerial Systems (AUVSI SUAS) Competition held in USA in June 2019 was another. A total of 75 teams participated in the competition and our rank was better than that of the team from some of the top colleges in the world like Harvard, UCLA, Virginia Tech, Cornell, etc. And believe me, this achievement was way bigger for us than the prize money we had won.

When I started my company in 2019, little did I know that in such a short period of time my startup will bag such prestigious accolades. In December 2019, we were among the winners of 'Startup India-Whatsapp Challenge' which was launched to inspire entrepreneurs to develop solutions that have socio-economic impact on the Indian economy. We were also one of the three winning startups of the Urban Works Innovation Challenge 2019-2020 by Columbia Global Centers, Mumbai that supports innovators and entrepreneurs who are passionate about producing viable and interdisciplinary tech-based solutions for transforming 21st century cities in India into sustainable and safe work environments.
Another milestone in my career was winning the Mbillionth Awards South Asia in the "Early Stage Startups" category which was organized by Digital Empowerment Foundation (DEF) & Facebook in February 2020. And very recently we have received a Facebook Grant for SMBs. I hope to continue working towards my goal and fulfilling my dream of not just being a successful entrepreneur but also giving back to society in all my capacities.

The journey to become a successful entrepreneur is full of obstacles and hardships. But with his unceasing dedication and perseverance, Mukul has achieved a pinnacle at such a young age and is an inspiration for all the aspiring and inquisitive minds at IIITD who want to make a change in the society through their innovative ideas.