IIIT Delhi UAV Team – Aurora led by undergraduate students Akhil Jarodia, Aseem Saini and Mukul Chhabra secured 6th rank in the 17th edition of the coveted Association for Unmanned Vehicle Systems International Student Unmanned Aerial Systems (AUVSI SUAS) Competition held at the US Navy Air Station in Maryland, USA from 12th-15th June 2019. A total of 75 teams participated in the competition. In addition to this, the team has been awarded prize money of $2250.
Other team members are Siddharth Nair, Prince Sachdeva, Pranshu Agrawal, Soumyadeep Paul, Ansh Sharma, Harsh Bandhey, Devesh Yadav, Setu Gupta, Paras Sharma, Vidit Jain, Srijan Jain, Mandeep Singh Manku (mentor).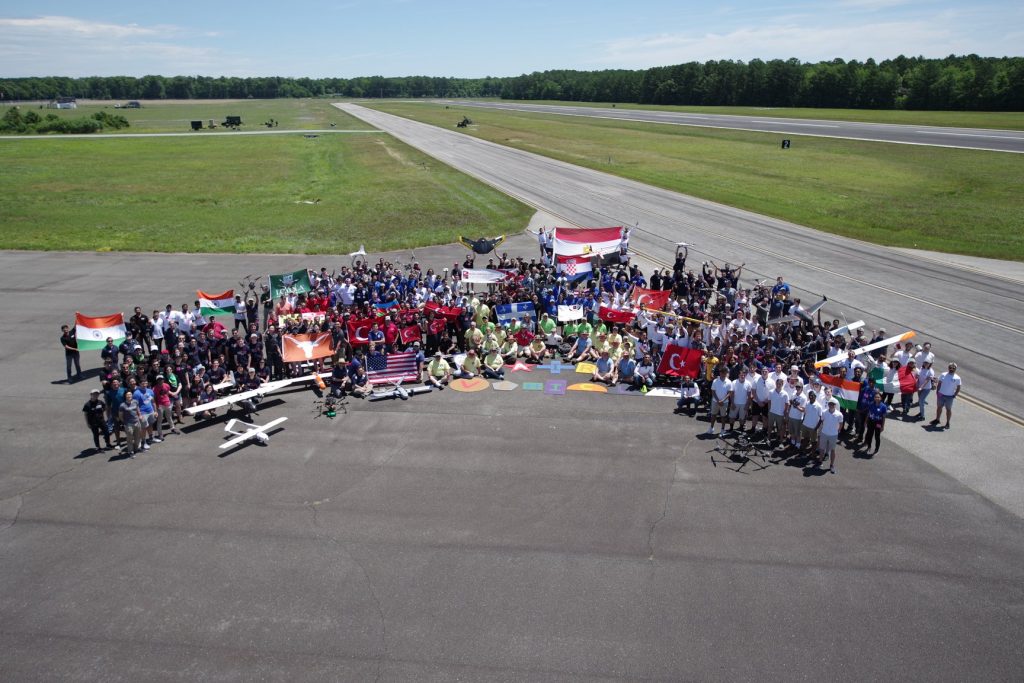 Here is what the winners has to say about their experience
About The Competitions
The Association for Unmanned Vehicle Systems International Student Unmanned Aerial Systems (AUVSI SUAS) is an annual competition organized by the AUVSI Seafarer Chapter. The AUVSI SUAS Competition is designed to foster interest in Unmanned Aerial Systems (UAS), stimulate interest in UAS technologies and careers, and to engage students in a challenging UAS mission. The competition requires students to design, integrate, report on, and demonstrate a UAS capable of autonomous flight and navigation, remote sensing via onboard payload sensors, and execution of a specific set of tasks. The competition has been held annually since 2002. It has been sponsored by companies like Google, Mathworks, and Boeing. The competition is held at the Patuxent River Naval Air Station (NAS) Webster Field in St. Mary's County, Maryland. This is the site of the UAS Test & Evaluation Directorate. The competition focuses on Unmanned Aerial Systems(UAS) performing an autonomous mission
The team started in 2015 under a research project with an aim to build an intelligent UAV platform with capabilities such as autonomous flying, navigation, and landing, as well as capabilities to perform complex tasks such as automatic airdrop, detecting and localizing targets of interest, reaching a specified position or target, etc. UAVs with these capabilities can serve a plethora of applications. We have participated in this competition for the last 4 years.
Other than this competition, we work on many ongoing research projects related to UAVs and their application.
The Competition Rush
The competition has 3 major graded components: a technical journal paper that describes the systems engineering approach, Flight Readiness Review (FRR) where teams decide their readiness and testings, and a mission demonstration in the Naval Air Base where the team is evaluated on their performance. The mission includes reaching waypoints, avoiding obstacles, dropping a bottle and locating and detecting objects and all done by an aerial vehicle autonomously.
We flew on number 8 on day 1 of the competition.
We took 28 minutes to complete the whole mission and covered around 15km distance in total at a speed of 13 m/s.
We successfully avoided all the obstacles and captured all the waypoint with an accuracy of 99.5 %. Our air delivery was highly accurate with the bottle falling at a distance of only 9 inches from the center when the maximum allowed distance was 75 ft but since our delivery payload burst out after reaching the ground we got no points here.

We were able to detect 3 out of 5 objects lying randomly on the field however due to some technical problem, we could successfully submit only one of them.

At the end of our flight, all the judges praised the team's professionalism and teamwork.
Our drone –
We used a hexacopter, capable of lifting up to 11 kgs keeping in mind the mission requirements of flying around 30 mins. We used 22.2V 38000mah batteries to power our drone that can give up to 40 minutes flight.

2019 is the fourth year of participation for the team in this competition. Last year our team secured an overall rank 33 in the competition. This year we were able to improve our results and secured 5th rank in onsite mission and 6th rank overall, beating universities like Harvard, Cornell for the very first time.

Our performance amongst Indian teams:
From India, following team applied this year,
DTU
SRM
VIT
Nirma University
NMIMS
Fr. Conceicao Rodrigues College of Engineering

We were the best among all the Indian teams that participated this year.

BITS Pilani, IIT Bombay also participated until last year but they didn't participate this year.
Preparations
The team remained highly motivated keeping the team spirit intact throughout the year and rigorous hard work to improve last year's mistakes to achieve a perfect mission.

Preparations included frequent team meetings and planning. We used to work on weekends during the semester and our complete summer break before the competition. During the entire month of May 19', we used to start from the morning at 9 and would do our testing up to 7 in the evening and sometimes even more. On the days The team wasn't able to meet, team calls were arranged on hangouts which lasted a couple of hours. We also maintained logs and checklists of work. The preparation included unit testing of all the elements and mock full tests so that we can get an idea that it can work well in the mission demonstration. We wanted to be sure about each element of our system is working perfectly and this zeal made us work together as a team till the end and come up with flying colors.